During the campaign, Trump would regularly talk about all the "impact studies" and useless regulations that were slowing down business.
It turns out, all those same studies and regulations could have very easily also slowed down his border wall.
In fact, they have been some of the biggest reasons cited by prior lawmakers as to why the wall could never be built.
Good thing we have President Trump, because he came ready with a solution that will cut through all this red tape BS.
It was just announced that President Trump will be using certain provisions in an "anti-terror" law to fast-track the wall and side-step many BS requirements like impact studies.
Read More:  Subway Caves to Muslims, Starts Using "Halal Meat"
Read More: Construction On The Wall Has Already Started!  Details.
I love it, the man is always 5 steps ahead.  Playing chess while everyone else is playing checkers.  Mr. Art of the Deal himself!
Here are more details, from The Daily Caller:
President Donald Trump plans to use anti-terror law to avoid undergoing a years-long environmental impact study for a large section of a border wall that is expected to travel through a wildlife refuge, Reuters reported Friday night.

Trump will use a 2005 anti-terror law created shortly after the Sept. 11, 2001 terrorist attack to sidestep an environmental impact study for a 32-mile portion of the border wall, sources told Reuters. The proposed section will pass through the 2,000-acre Santa Ana National Wildlife Refuge near the southern tip of Texas.

The area is home to 400 species of birds as well as a dwindling population of federally protected ocelots. There are only about 50 ocelots remaining in the U.S., according to the Fish and Wildlife Service.

Anonymous sources told Reuters that the U.S. Customs and Border Patrol (CPB) would rely on the exemptions provided to the U.S. Department of Homeland Security under the guises of the Real ID Act, which would help the government build the wall without waiting several years for permission.

Environmental impact studies are required under federal law whenever a project is built on public lands, including national forests, wildlife refuges, among other federally protected lands. CPB spokesman Carlos Diaz told reporters Trump's wall construction depends on whether Congress will allocate money needed for its completion.

"CBP, like all other federal agencies, may rely on Categorical Exclusions to achieve NEPA compliance for routine agency activities, like the soil sampling, that have minimal to no environmental impact," he said, referring to the National Environmental Policy Act (NEPA), which makes environmental studies mandatory.

Trump made building a giant border wall stretching from coast to coast part of his campaign message during the presidential election. He also claimed that the White House would force Mexico to pay for the wall through various tax measurements.

The U.S. House of Representatives announced July 11 that $1.6 billion in the budget would go toward Trump's border wall, setting the stage for a brawl between parties that could potentially lead to a government shutdown.
Do you think Trump is doing the right thing?
Read More: Trump Prayed For In White House
Read More: Melania Leads Crowd in the Lord's Prayer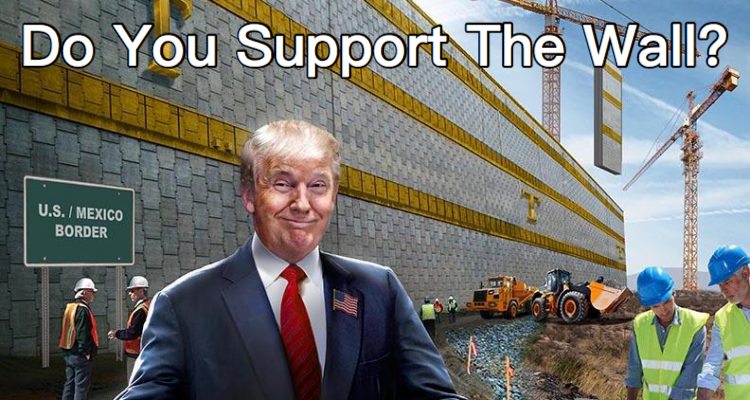 Stay connected with Trump News Email … FREE!