This should make any real American mad as hell!
A couple of years ago, if you would have said the CIA was fighting a secret shadow war, costing $1 billion in Syria, people would have labeled you a kook.  A nut.  A conspiracy theorist.
But now it's printed fact, right in the New York Times of all places.
Isn't it funny how conspiracy theory often turns out to be fact when you give it enough time?  The old Big Lie theory….the bigger the lie, the easier it is to hook the public on!
Speaking of, you don't seriously believe we landed on the moon in 1972 do you?  No really, I'm serious.  You mean to tell me I'm supposed to buy the official story that we landed on the moon from 1969 to 1972, using less computing power that we all currently carry in our pockets on our cellphones, yet somehow we landed a rocket on the moon with basically no computing power at all?  A feat that Elon Musk says he would probably not be able to accomplish even to this day?
That's right, take a look, from RT.com, Musk says he doesn't think he could pull off a propulsive landing on the moon today, but somehow that's what they did in 1969?
Musk said that Dragon 2 is "technically still capable" of propulsive landings, but said it would have to land on "some pretty soft landing pad because we've deleted the little legs that pop out of the heat shield."

Musk said the reason the Dragon 2 will no longer use the landing technique was due to safety concerns.

"The reason we decided not to pursue that heavily is that it would have taken a tremendous amount of effort to qualify that for safety for crew transport," Musk said. "That's why we are not pursuing it. It could be something that we bring back later, but it doesn't seem like the right way to apply resources right now."

Musk added that he did not think that propulsive landing was the best approach.
Or the bigger question….why haven't we gone back to the moon since 1972?  You mean to tell me that there's a whole unexplored world up there waiting to be claimed, that would have TREMENDOUS military advantage, and we haven't gone back since 1972?  Haven't bothered?  Too busy?
The official story is that the technology that originally got us to the moon has been "lost".  No, I'm dead serious.  Take a look, from Space.com:
"The amount of rocket energy it takes to accelerate those kinds of payloads away from Earth doesn't exist anymore," said Jeff Hanley, NASA's Constellation program manager. "It exited in the Apollo era with the Saturn V. Since that time this nation has retired that capability."
So, ok, let me get this straight.  We had the technology to get to the moon and it was just "retired" by NASA.  Not replaced.  Nothing.  Just lost.  Oops!  Can't re-create it either.
Are you kidding me?  If you buy that, then you should not be reading this blog because you're a zombie.
Let me tell you something, one of two things happened.  Either (1) we never went in the first place and it was all faked, or (2) we got there and did not like what we saw….or were banned from ever returning.  Pick your poison.  I don't know which is right, but I do know the official story is B.S., and that's not even getting into the analysis of the actual videos that have been debunked as fakes.
Speaking of the videos, you mean to tell me we beamed audio and video of this landing from the Moon to the Earth in 1969, yet I can still barely play a TV show over WiFi in 2017?  Come on!  Wake up people!
Anyway….I got way off track, I'm so sorry.  Let's get back to the task at hand.
My point was that for a long time, if you said the CIA was waging a shadow war in Syria, most people would have said you were crazy (just like SOME of you think I'm crazy after reading the paragraphs above).  Except….now it's been admitted.
Take a look at this tweet from Julian Assange:
Establishment "journalists" said for years this didn't exist. Now its perhaps biggest "in the history of the CIA" https://t.co/8NBQnf3XbO

— Defend Assange Campaign (@DefendAssange) August 3, 2017
That's right, the shadow war was just EXPOSED and CLOSED by our man, President Trump!
Thank you Donald!
Want even more details?  Here is the NY Times story:
The end came quickly for one of the costliest covert action programs in the history of the C.I.A.

During a White House briefing early last month, the C.I.A. director, Mike Pompeo, recommended to President Trump that he shut down a four-year-old effort to arm and train Syrian rebels. The president swiftly ended the program.

The rebel army was by then a shell, hollowed out by more than a year of bombing by Russian planes and confined to ever-shrinking patches of Syriathat government troops had not reconquered. Critics in Congress had complained for years about the costs — more than $1 billion over the life of the program — and reports that some of the C.I.A.-supplied weapons had ended up in the hands of a rebel group tied to Al Qaeda further sapped political support for the program.

While critics of Mr. Trump have argued that he ended the program to curry favor with President Vladimir V. Putin of Russia, there were in fact dim views of the effort in both the Trump and Obama White Houses — a rare confluence of opinion on national security policy.

The shuttering of the C.I.A. program, one of the most expensive efforts to arm and train rebels since the agency's program arming the mujahedeen in Afghanistan during the 1980s, has forced a reckoning over its successes and failures. Opponents say it was foolhardy, expensive and ineffective. Supporters say that it was unnecessarily cautious, and that its achievements were remarkable given that the Obama administration had so many restrictions on it from the start, which they say ultimately ensured its failure.

The program did have periods of success, including in 2015 when rebels using tank-destroying missiles, supplied by the C.I.A. and also Saudi Arabia, routed government forces in northern Syria. But by late 2015 the Russian military offensive in Syria was focusing squarely on the C.I.A.-backed fighters battling Syrian government troops. Many of the fighters were killed, and the fortunes of the rebel army reversed.

Charles Lister, a Syria expert at the Middle East Institute, said he was not surprised that the Trump administration ended the program, which armed and trained thousands of Syrian rebels. (By comparison, a $500 million Pentagon program that envisioned training and equipping 15,000 Syrian rebels over three years, was canceled in 2015 after producing only a few dozen fighters.)

"In many ways, I would put the blame on the Obama administration," Mr. Lister said of the C.I.A. program. "They never gave it the necessary resources or space to determine the dynamics of the battlefield. They were drip-feeding opposition groups just enough to survive but never enough to become dominant actors."

Mr. Trump has twice publicly criticized the effort since he ended it. After The Washington Post first reported on his decision, Mr. Trump tweeted that he was ending "massive, dangerous, and wasteful payments to Syrian rebels fighting Assad." During an interview with The Wall Street Journal last month, the president said many of the C.I.A.-supplied weapons ended up in the hands of "Al Qaeda" — presumably a reference to the Qaeda-affiliated Nusra Front, which often fought alongside the C.I.A.-backed rebels.
Please comment below!
And if you have thoughts on the faked Moon Landing, I'd love to hear those as well!  😊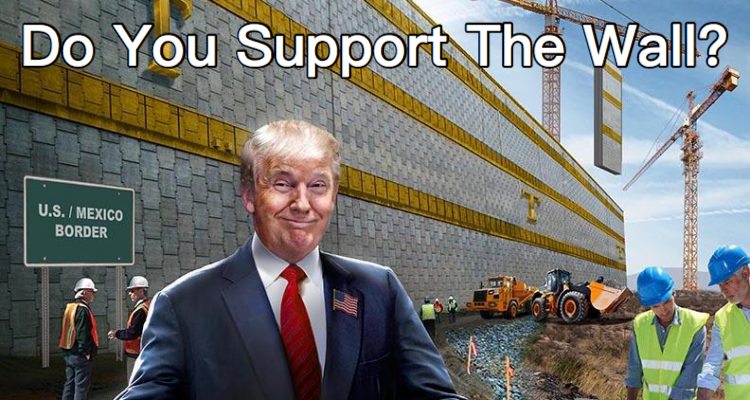 Stay connected with Trump News Email … FREE!