I'd love to see this go viral on Facebook instead of the garbage from the Crooked Media.  
We have a GOOD MAN in the White House.
In fact, some would even say it was God-ordained.  That's right.  There have been many prophecies of Donald Trump becoming President.  There is this famous prophecy from 2011 – way before he even announced.  And this video puts together dozens more, all made before the 2016 election season.  Pretty incredible.
Read More: The 2011 Trump Prophecy
Watch: Dozens of Trump Prophecies
Now that he's in the White House, we're already seeing the fruit of what this man has brought with him.  Weekly Bible studies have been revived in the White House, with many prominent Trump cabinet members attending, including Mike Pence.
And that's not all.  Just a few weeks ago, Trump invited a group of pastors into the Oval Office.  For a chat?  Yes, that was part of it.  But more specifically, after they spoke Trump requested they all pray for him.  What a remarkable moment!
In addition to that, Pastor Paula White, advisor to the President, says she's seen his faith deepen in these first 6 months in office like at no time before in his life.
Read More: Trump Prayer Circle in Oval Office
Read More: Trump's Faith Deepening
So with all of this as background, I wanted to create this article in the hopes that we could get it going viral.  I want it to be a prayer chain that we all add to and keep sharing around.  Will you help?    
This article is inspired our friends over at the Facebook group, President Trump's Prayer Team.  You can follow them here.
They post prayers for President Trump, for Washington, D.C. and for the nation.
We wanted to share some of those here and lift them up together with you.
Here's one:
Here's another: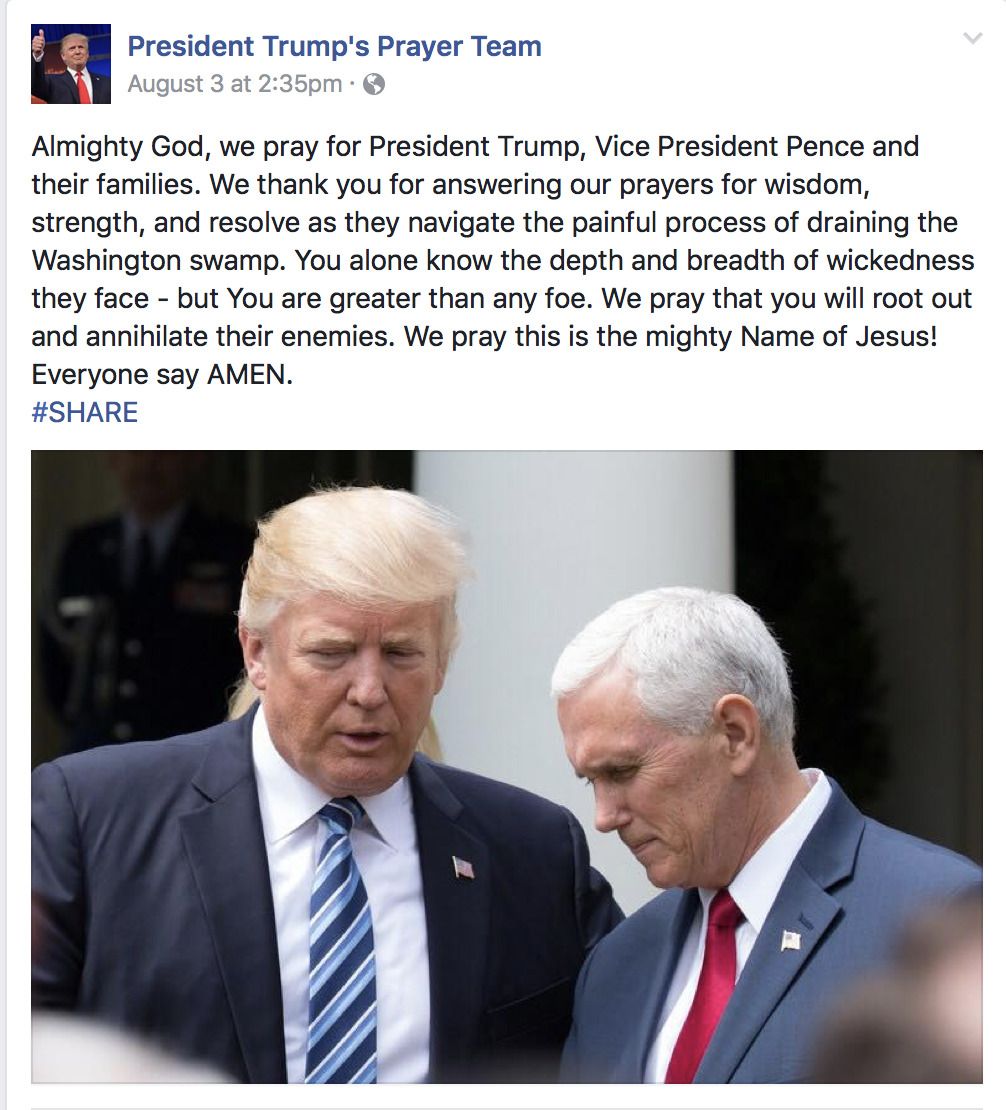 Another:
One more:
Please join us in praying for President Trump!
Add your prayer in the comments below.
And SHARE so this can reach more people!