President Trump is making good — very good — on his campaign promise to eliminate ISIS!
It always boggled my mind how a rag tag group of Muslim insurgents running through the desert continued to not only evade the strongest military on the face of the earth (USA) but actually gain ground and push back our forces.
Wonder no more.
We simply weren't fighting them.
As many suspect, it may have been much worse.  We (Obama) may have been aiding them.
But now, things have changed.  Ever since Trump was sworn into office in January 2017, there has been a remarkable turning of the tide.  ISIS has continually lost ground as Gen. James Mad Dog Mattis has forced them out of every rat hole they occupy.
Read More:  In Surprising Move, ISIS Surrenders En Masse
Read More:  Top 4 ISIS Leaders Killed
Read More:  ISIS Men Dress as Women to Avoid Capture
And today comes word that we just hit another major milestone: ISIS just lost it's capital city in Mosul.  Previously their key capital city and stronghold, they've lost the entire city.  Many are dead or captured.  The rest flee to almost certain death in the desert.
Take a look at this fantastic article, from Yahoo/Reuters:
U.S.-backed militias said they had defeated Islamic State in its former capital Raqqa on Tuesday, raising their flags over the jihadist group's last footholds in the city after a four-month battle.

The fighting was over but the alliance of Kurdish and Arab militias was clearing the stadium of mines and any remaining militants, said Rojda Felat, commander of the Raqqa campaign for the Syrian Democratic Forces (SDF).

A formal declaration of victory in Raqqa will soon be made, once the city has been cleared of mines and any possible Islamic State sleeper cells, said Talal Silo, the SDF spokesman.

The fall of Raqqa, where Islamic State staged euphoric parades after its string of lightning victories in 2014, is a potent symbol of the jihadist movement's collapsing fortunes.

Islamic State has lost most of its territory in Syria and Iraq this year, including its most prized possession, Mosul. In Syria, it has been forced back into a strip of the Euphrates valley and surrounding desert.

The SDF, backed by a U.S.-led international alliance, has been fighting since June to take the city Islamic State used to plan attacks abroad.

Another Reuters witness said militia fighters celebrated in the streets, chanting slogans from their vehicles.

The fighters and commanders clasped their arms round each other, smiling, in a battle-scarred landscape of rubble and ruined buildings at a public square.

The flags in the stadium and others waved in the city streets were of the SDF, its strongest militia the Kurdish YPG, and the YPG's female counterpart, the YPJ.

Fighters hauled down the black flag of Islamic State, the last still flying over the city, from the National Hospital near the stadium.

"We do still know there are still IEDs and booby traps in and amongst the areas that ISIS once held, so the SDF will continue to clear deliberately through areas," said Colonel Ryan Dillon, a spokesman for the coalition.

In a sign that the four-month battle for Raqqa had been in its last stages, Dillon said there were no coalition air strikes there on Monday.

TRAPPED BY FIGHTING

Fatima Hussein, a 58-year-old woman, sitting on a pavement smoking a cigarette said she had emerged from her house after being trapped for months by the fighting. Islamic State had killed her son for helping civilians leave the city, she said.

The SDF, an alliance of Kurdish and Arab militias, took the National Hospital in fierce fighting overnight and early on Tuesday, said spokesman Mostafa Bali in a statement.

"During these clashes, the National Hospital was liberated and cleared from the Daesh mercenaries, and 22 of these foreign mercenaries were killed there," said Bali, using the Arabic acronym for Islamic State.
Thank you to our wonderful military!  And to President Trump and General Mattis!
Continue to wipe them off the face of the earth!  Eliminate terrorist scum!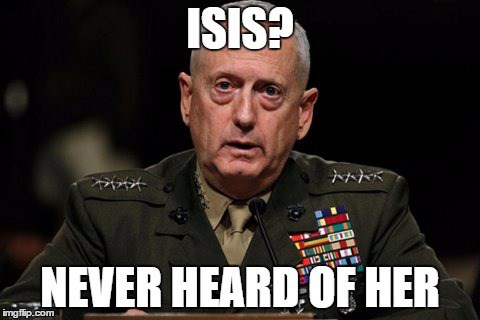 Now, let's address one more thing that has never made sense to me.  Just like it never made sense to me that this rag tag group of ISIS rebels could hold back the US Military, it also never made sense to me that a rag tag group of terrorists hijacked three airliners and flew them into two towers and one pentagon building with stunning accuracy, that they were never intercepted by fighter jets, that it was all orchestrated by a man in a cave halfway across the world with no internet, that steel buildings melted (vaporized, actually if you want to get technical) and on and on and on.  In fact, there's not much of the official story that is believable.  If you've never really looked into it, here's the entire set of confusing facts summed up in 5 perfect minutes:
My prediction is we will see the official 911 story debunked by the end of Trump's second term.  That's right, you can mark that down right now.  Check back with me in 2024 and let's see what happened!
Comments welcome below.
Stay connected with Trump News Email … FREE!