I am disappointed I have to write this article.
From the very beginning, I really liked Sen. Jeff Sessions.  He was one of the earliest aboard the Trump Train and he was a pivotal force in giving Donald Trump credibility at crucial times.
But something has changed.
Vote Now:  Is Sessions Doing a Good Job?
As it looks right now, either (1) he has been compromised and the Deep State is blackmailing him with something they've found in his past, or (2) his Trump support was all a big act.
I have to assume #1.
From the very beginning of Trump's campaign, one of the chants you could hear at every rally was "LOCK HER UP".  Take a look:
I've been at many of these rallies and they are magical times!  A crowd of tens of thousands all unified together for one goal.
Another chant broke out late in the campaign: "DRAIN THE SWAMP".  President Trump has now publicly said he initially didn't like the slogan, but after seeing the response from the crowd at his rallies, he quickly become a convert.
Watch:
Now, what do those two rallying cries have in common?
A desire by regular Americans, middle-class Americans, the salt of the earth Americans that have made America so great, to see corruption come to justice.
And no where is there more corruption than with Bill and Hillary Clinton.
Vote Now:  Is Sessions Compromised?
But so far nothing has been done!
Where is Jeff Sessions?  While he has proven adept at cracking down on illegal immigration, he seems totally disinterested or incapable of investigating the Clintons.
Jeff Sessions is our Attorney General, the highest law enforcement officer in the land.  He holds the power to investigate and charge those guilty of crimes against our country.
And yet he does nothing.
It seems as though President Trump is nearing the end of his patience with Sessions as well, given his Tweet storm from this morning, take a look:
Never seen such Republican ANGER & UNITY as I have concerning the lack of investigation on Clinton made Fake Dossier (now $12,000,000?),….

— Donald J. Trump (@realDonaldTrump) October 29, 2017
…the Uranium to Russia deal, the 33,000 plus deleted Emails, the Comey fix and so much more. Instead they look at phony Trump/Russia,….

— Donald J. Trump (@realDonaldTrump) October 29, 2017
…"collusion," which doesn't exist. The Dems are using this terrible (and bad for our country) Witch Hunt for evil politics, but the R's…

— Donald J. Trump (@realDonaldTrump) October 29, 2017
…are now fighting back like never before. There is so much GUILT by Democrats/Clinton, and now the facts are pouring out. DO SOMETHING!

— Donald J. Trump (@realDonaldTrump) October 29, 2017
He ends with the perfect summary:  DO SOMETHING!
I believe that is a personal challenge to Jeff Sessions.  Do Something Jeff, or you're going to get your ass fired!  If you ask me, President Trump has already let him go too long.  Something is clearly wrong.  He's either compromised or not the man we thought he was.
Do Something Jeff!  And if you don't, then we send the same message to President Trump:  "DO SOMETHING!"  Either fire Sessions or light a fire under his ass.
Trump is right:  There is overwhelming evidence of guilt by Clinton now that we are getting more facts.  And Podesta.  And Lynch.  And many more.
The trap has caught it's prey.  Now it's time to prosecute and……LOCK HER UP!
DRAIN THE SWAMP!
---
We'd love to hear what you think!  
Please vote in our new survey: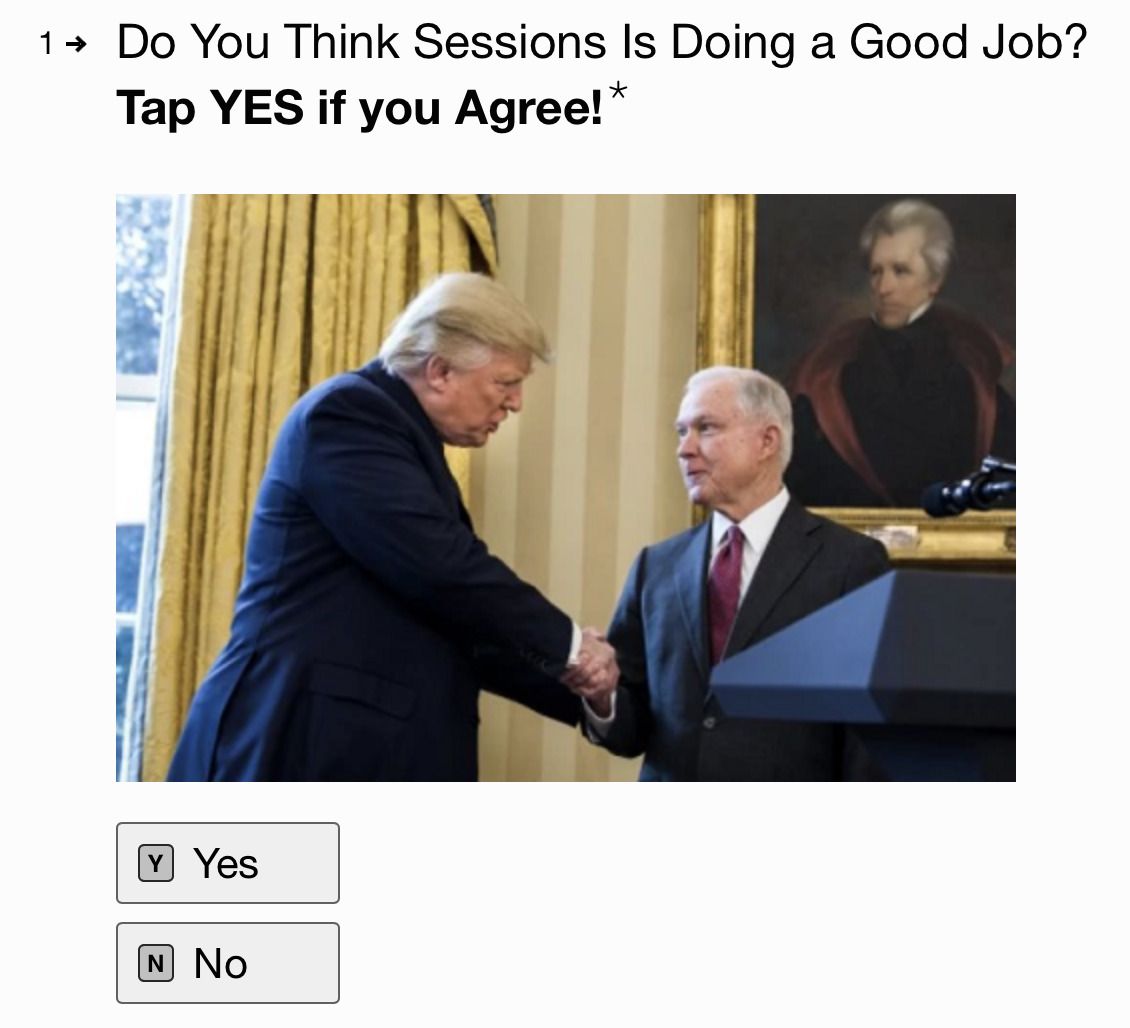 Stay connected with Trump News Email … FREE!