Yes!
They are finally starting to go after these protestors!
By the way, before we get into this story, let's have a little refresher course on some basic civics lessons, ok?  Pay attention AntiFa and BLM: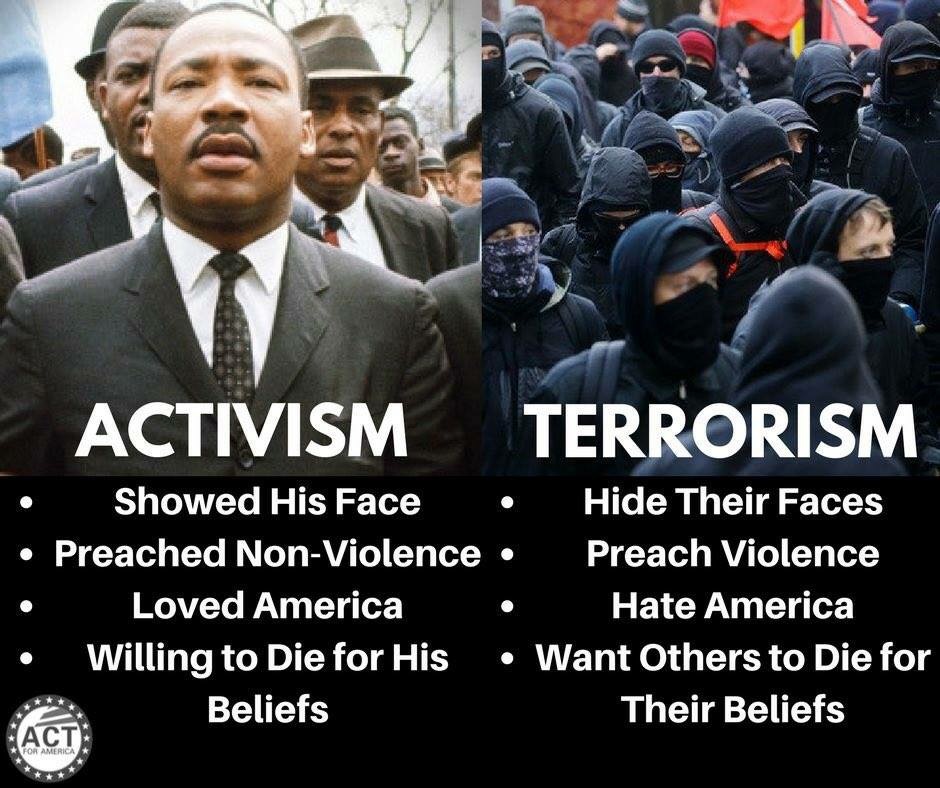 Ok, do we all understand the difference?
Vote Now in our new poll:  Should Violent Protestors Be Arrested?
Now for a great report.  A violent protestor from the Phoenix Trump rally was just arrested.  This is great progress!  Please keep it up, and shut these violent thugs down!
Here are more details from the story, from AZFamily.com:
The man seen in the 3TV/CBS 5 video getting hit with a non-lethal round after kicking a gas canister at officers was booked into jail Thursday night on four criminal charges, Phoenix police announced.

Joshua Stuart Cobin, 29, from Scottsdale, was booked on three felony counts of aggravated assault on police and one misdemeanor count of unlawful assembly.

According to Cobin's court documents, police state that he after he tried to kick the smoking canister at police, he it up and threw it at them.

Police go on to say in the documents that he later picked up a second smoking canister and threw that one at police as well, hence the three charges of aggravated assault.

Cobin identified himself as the man seen on a now-viral video kicking a can of tear gas back at police officers during Tuesday night's protests of President Donald Trump. Seconds later, an officer hit Cobin with a non-lethal gas round in the pelvic area, dropping him to the ground.

Another man in a Colin Kaepernick jersey helped Cobin out of the line of fire.

Cobin defended his actions in an interview Wednesday.

"I don't equate kicking or putting back tear gas canisters as attacking police. I never attacked a police officer," he said.

He said he kicked the canister because he felt officers were not justified in their response to Tuesday's protests. Phoenix police have said they broke up the demonstration with tear gas and pepper balls after some people in the crowd threw rocks, bottles and other objects at them.

"That was not an unlawful assembly and that I had every right to be there. And that tear gas was in the way of myself and every other peacefully assembled protesters being there," he said.

The sales and support representative at Go Daddy spent Tuesday night in the emergency room. He said he got treatment for inhaling pepper spray and for second-degree burns on his right hand from picking up a hot can of tear gas.

We talked to an attorney on Wednesday night who said the protester seen on video would likely not face any legal trouble for kicking the tear gas back at police since it would be tough to prove he tried to hurt an officer. In the interview, Cobin said he didn't intend to hurt anyone.

Police, apparently, have a different interpretation.
Stay connected with Trump News Email … FREE!