It's a good day isn't it?  
Great news just keeps coming in.  First was a major Senate Democrat exposed for $6 million worth of ties to Russia!  And now we have a report that Comey's firing from the FBI may lead to the re-opening of the case against Hillary Clinton!
OH BABY!
Here's the breaking report, from Fox News:
President Trump's decision to fire James Comey touched off widespread speculation in Washington over what will happen to the FBI's Russia meddling probe – but the prospect of new leadership at the bureau also could hold implications for the 'closed' Hillary Clinton email case.

Brian Weidner, a veteran former FBI agent, suggested both the case and the immunity deals struck during that investigation could be revisited.

"I would be surprised if they did not review all the investigations regarding HRC and come up with [a] conclusion regarding prosecution. The statute of limitations hasn't come into play yet," he said in an email to Fox News.

As for the immunity deals struck with key players in the Clinton orbit, he noted those deals are "with the government, so in theory it wouldn't change."

However, he wrote, "a new AG and new director may take a good look at the entire case, and if anyone who received immunity did not live up to their agreement, like Huma [Abedin] with the classified documents on her computer, the deal is off and they are potential targets again."

For dozens of current and former agents, the key factor will be who is the next director of the world's most powerful law enforcement agency.

Does Trump pick from the FBI ranks or opt for a more political choice?

"No one can figure out how this POTUS [president of the United States] operates," one former agent connected to the Clinton email probe said.

While Democrats allege Trump fired Comey because of his discomfort with the probe of Russian interference in the 2016 campaign and potential ties to Trump associates, the stated reason for the ouster was Comey's handling of the Clinton email probe last year. A detailed memo from Deputy Attorney General Rod Rosenstein faulted Comey for announcing his findings last July, going around his boss, then-Attorney General Loretta Lynch, and for making public a decision to revisit the case shortly before the election.

Former State Department Inspector General Howard Krongard told Fox News that he remains critical of how Comey led the email investigation – including the immunity deals with key Clinton aides Abedin, Bryan Pagliano, Cheryl Mills, John Bentel and Heather Samuelson.

Krongard described it as "the granting of immunity to five senior Clinton aides for virtually nothing in return."

He said this is "normally done in return for a proffer of evidence or testimony which will build a bridge from one level to a higher level; in this case, the immunity grants built a moat around the higher level, not a bridge."
Read more here:  http://www.foxnews.com/politics/2017/05/11/comey-firing-could-spur-new-review-clinton-case-immunity-deals-ex-agent-says.html
My favorite Hillary face ever:
Hey Hillary, "what difference does it make" if we send your ass to jail?
Your new home!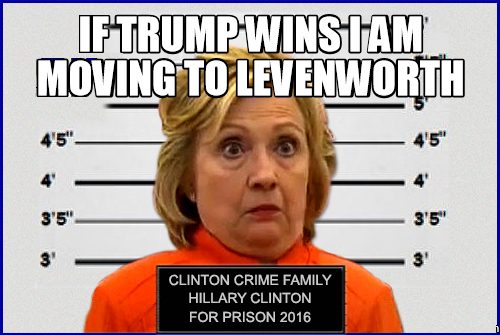 MORE
Should Hillary Be Prosecuted Now That Comey Is Gone?
https://ilovemyfreedom.typeform.com/to/yEizz6
Stay connected with Trump News Email … FREE!